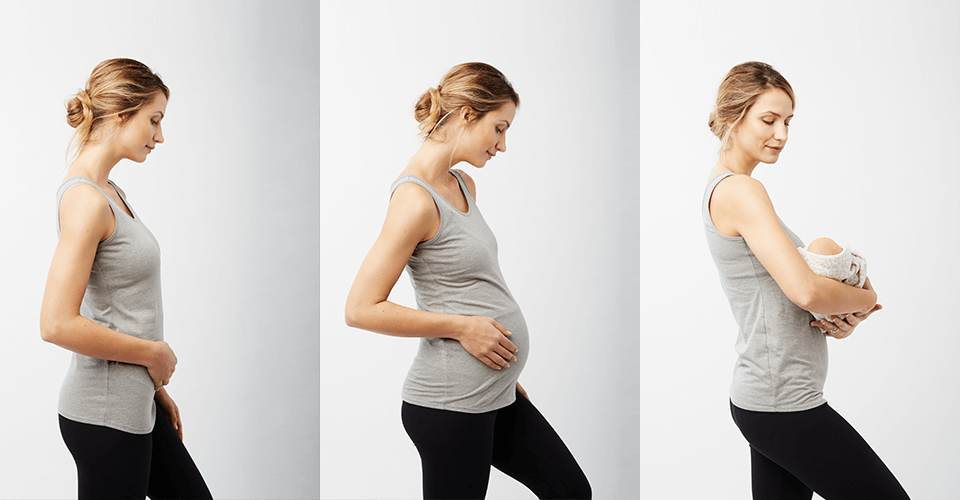 MATERNITY FIT + FUNCTION
At Motherhood®, we know shopping for maternity clothes and knowing your maternity size can seem initially overwhelming, but we are here to help make the transition seamless and fun! As the world's largest designer and retailer of maternity clothing, we've made it our priority to know the stages of pregnancy inside and out. We take a lot of care in working with pregnant women, constantly learning about how the body changes and how we can incorporate the right balance of fit and fashion. When you start to show, and even before, it's time to invest in a maternity wardrobe that makes you look and feel great. Our styles are designed to grow with you, so you can rest easy about making that investment early. When determining the best maternity size for your body, a good place to start is at your pre-pregnancy size. If you were a medium before baby, try a medium now. We know that everyone's body changes at different rates over the 40 weeks of pregnancy, but be assured our styles are designed to grow with you. We provide a size chart for reference but recommend initially buying a size up and a size down to determine your perfect fit or head in-store for a fitting with our styling team. If ordering online, we offer free returns in store once you've determined your best maternity sizing. See below to learn more about how to shop maternity pants, tops, dresses and bras and then head over to our Trimester Checklist to get a sense of all the essentials you will need for the next 40 weeks and beyond! Oh, and congratulations!
MATERNITY BRAS
We are often asked when the best time is to buy maternity bras. The answer is as soon as your breasts start to feel uncomfortable in your current bra, usually in those very early weeks of pregnancy. Knowing how much of an investment intimates can be, we have designed all our maternity bras to have nursing functionality as well, to take you from the first trimester right into motherhood. We strive to have the best-fitting maternity and nursing bras on the market, taking pride in our ability to help you find your perfect size and style!
MEASURING YOUR BRA FIT AT HOME
Use the steps below to determine your current bra size or consult our Size Chart. Keep in mind at-home measurements may not be 100% accurate. Always round up, since breasts tend to grow throughout pregnancy, nursing and pumping.
FIND YOUR BAND SIZE

The first step to finding your nursing bra size is to take a tape measure behind your back and then around to the front, just under your breasts. Look for the nearest EVEN number, which will be your band size.

FIND YOUR CUP SIZE

Take that tape measure behind your back and then directly over the top of your breasts. Round that up to the nearest even number. If you are an A cup, it will be roughly one inch larger than your band size, B cup will be 2 inches, C cup will be 3 inches, D cup 4 inches, DD will be 5 inches and so forth.

OR COME TO THE STORE

Visit a Motherhood Maternity store to let our associates measure you for free!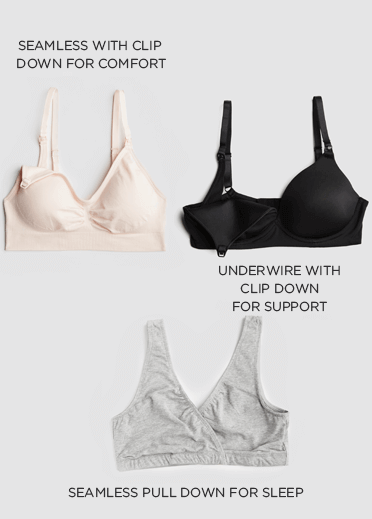 BRA STYLES
We have listened to our customers and worked to design and offer a wide range of bra styles that suit the needs of both our moms-to-be and nursing moms in terms of fit and comfort. Get to know our styles below!
Seamless and Wireless:
Our seamless bras are designed with a cotton sling and ribbed band for comfort and support along with an interlocking center that provides a flattering shape. Our wireless styles are equipped with a no-poke angled comfort bone technology to ensure ultimate support without sacrificing a sleek finish.
Sleep:
Our collection of sleep bras are fully lined for added support with an added ease at the neck and underarm to allow for fluctuating breast size and easy access for nursing. They are also made with a high functioning cotton with comfort support perfect for sleep.
Underwire and Full Coverage:
Our full coverage styles are built with a comfort strap and designed with a microfiber fabric for the ultimate softness against sensitive skin. They are lightly lined with trims, such as a plush back hook and eye, wire channel and back strap elastic, for added comfort. A delicate lace detail keeps them feminine and pretty.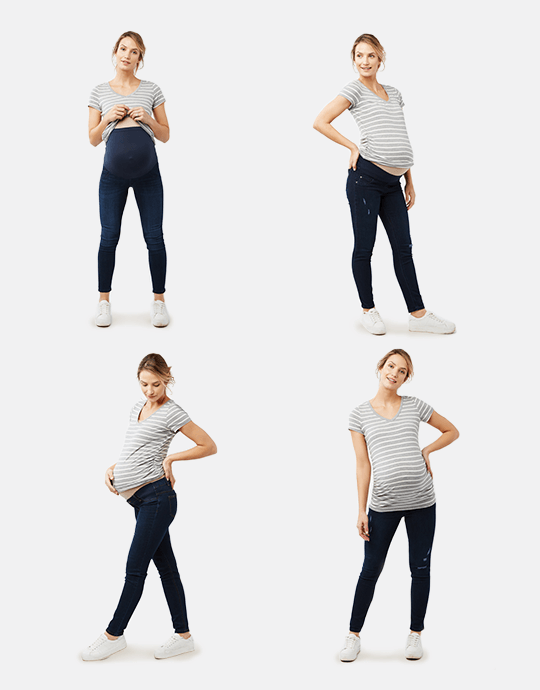 PANTS
As maternity experts, our clothes are designed for comfort in addition to providing the best maternity belly support across the board. Our jeans, leggings, skirts and shorts are constructed with three different types of maternity panels ("bellies" as we call them) to ensure you find the best fit to flatter your figure and comfort your growing bump!
SECRET FIT BELLY®

What does secret fit belly mean? Our patented panel can be found on most of our maternity pants. Try it worn over the belly for a seamless finish or folded down to create the look of a longer undershirt. The best-selling Secret Fit Belly® grows with your body, but never loses its shape. It will rebound after birth, stretching the life of your maternity pants into early motherhood.

UNDERBELLY

The underbelly waistband provides the comfort of a pre-pregnancy style with a no-slip fit. These types of maternity pants and jeans are perfect for the expecting woman who loves the look and feel of her non-maternity bottoms. All styles are stretchy for growing curves, but allow for a tucked in finish, so you are never sacrificing fashion for function.

SIDE-PANEL

Our side-panel maternity pants combine the stretch of the Secret Fit Belly® with the ease of the Underbelly. The panels embrace the hips to grow with your figure, but have full retention for after birth. The waistline falls under the bump, giving the look and feel of pre-pregnancy pants.
MATERNITY TOPS AND DRESSES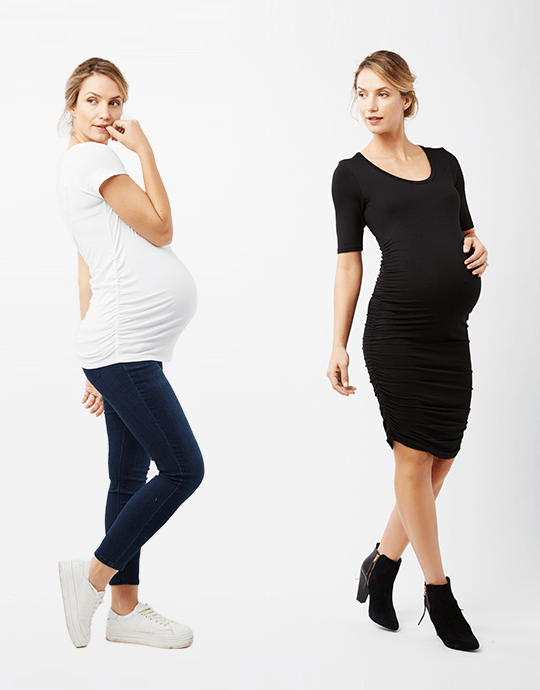 TOPS AND DRESSES
Our side-ruche styles are designed with elasticized fabric subtly sewn into the seams of your favorite maternity tees, tops, and dresses. This craftsmanship allows these pregnancy styles to fit through your nine months and into motherhood, without ever losing their shape. Expecting women love the bump flattering fit, but that they also never feel constricted as baby grows in their belly. New moms look to the side-ruching after delivery, and as they ease back into their "pre-baby" bodies.